[/ flexslider_item] [/ flexslider_item] [/ flexslider_item] [/ flexslider]
[/ two_fourth]

Eco Friendly

Optimum Name Badges
Ubiqus Optimum Conference Name Badges are big enough to include vital information about your conference, seminar or meeting.
Order your Customized Conference Optimum name badges today, big and bold enough to magnify your brand.
[/ one_fourth]
[/ bullet]
[/ bullet]
[/ bullet]
[/ bullet]
[/ bullet]
[/ bullet]
[/ bullet]
[/ bullet]
[/ bullets]
Call now
[/ one_fourth]
[/ row]
[/happy]
[/ vc_column] [/ vc_row]

THE PRODUCT
Our Optimum badges are designed to be worn around the neck with a lanyard. Thanks to its large size you can fit up to 30 lines of text on each side. This is ideal for an event program, agenda, room location or even a bespoke itinerary for each participant.
Optimum badges are available in our unique laminated material which can be returned to us after the event for waste to energy disposal.
[/ bullet]
SHAPE AND DIMENSIONS
Standard dimensions include Optimum Conference Badge (80 x 120mm) or Optimum XL Conference Badge (90 x 130mm). This allows plenty of space for – personalized agendas, corporate sponsor logos, maps, Wi-Fi information building plans and larger images.
[/ bullet]
CUSTOM
A large printable area allows a great deal of personalization on each badge. Include variable data such as logos, photos, text, banners, etc. In addition each badge can be customized per delegate with language flags, session choices and room locations.
[/ bullet]
CUSTOMIZATION PLUS
Include maps, hotel information, health and safety information. Include all the information you need to ensure your event goes without incident.
[/ bullet]
DELIVERED READY TO GO …
Badges delivered ready sorted into your chosen order, and organized into our handy badge trays. We also provide a checklist for easy distribution of the badges!
[/ bullet]
[/ bullets]
[/ tabs_item]
[/ tabs]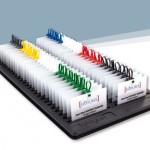 [/ one_third]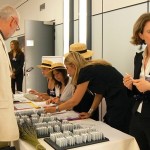 [/ one_third]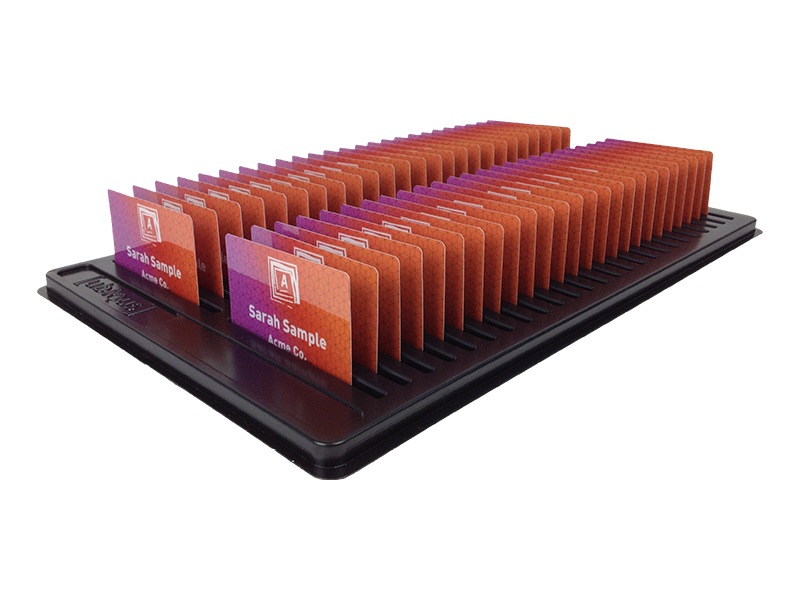 [/ one_third]
[/ inner_row]
[/ row]
[/ tabs_item]
[/ tabs]
Our Optimum name badges are guaranteed to "stand out" at all manner of events including conference, high-level meetings, award ceremonies seminars and trade shows.
We are regularly used by organizations such as Ernst & Young , Haymarket and Kings College International to name a few.
Name badges are your best ally for all types of events. They can be used to display a variety of information:
the identity of the wearer.
[/ bullet]
the nationality / language spoken by the attendee , written in full or indicated using a country flag.
[/ bullet]
the group or sub-group of the attendee : using a simple color code, or attendee type, all attendees can easily identify which group they are in.
[/ bullet]
the program of the event : forget the extra sheets, the participant now has the entirety of the program – personalized or not – on their badge!
[/ bullet]
the hotel that the attendee is staying in or transport arrangements such as coach number.
[/ bullet]
access rights to certain areas, such as staff, VIP's or technicians.
[/ bullet]
[/ bullets]
… and a range of other information! Simply get in touch to talk through your design.
With crucial information printed on a badge that arrives sorted on trays and ready to go, you can say goodbye to the woes of stuffing plastic wallets, bulky information packs and misplaced itineraries.
[/ tabs_item]
[/ tabs]
Did you know?
The world's longest name belongs to




Hubert Blaine Wolfeschlegelsteinhausenbergerdorff, Sr. (Wolfe + 585, Senior)

.




His full name is 746 characters long.




The average name is 14 characters long.




Our design process allows us to handle names that are very long as we can adjust the font size and layout on each individual badge before going to print.
[/ one_half]

[/ one_half]
[/ row]